Contemporary or natural, choose outdoor furniture that meets your expectations
With Sunny Dom , reinvent your outdoor space and enjoy an exclusive outdoor experience
We give you personalized advice and guide you in the most appropriate choice in line with your needs and your desires for outdoor furniture.
We satisfy all your requirements for comfort, design as well as durability, giving you access to a premium selection of outdoor solutions.
Solutions that respect your aesthetic preferences such as what makes your building and your environment unique… At Sunny Dom, we have a single course of action, to fully satisfy you!
You own a villa or an apartment, in Saint Barthelemy, Saint Martin, Guadeloupe or Martinique, and you want your terrace to be equipped with custom-made outdoor furniture that suits you.
You want to decorate your bioclimatic pergola with elegant and refined outdoor furniture that brings this unparalleled contemporary luxury note, both trendy and of high quality.
Are you looking for authentic outdoor furniture made with materials that can resist the weather conditions of our islands and that will bring to your bioclimatic pergola this nature atmosphere you love so much?
Whatever your decoration plans, your outdoor design needs, your constraints and your aesthetic preferences, Sunny Dom selected two leading brands in their market for you, both offering exclusive and innovative solutions.
Choose excellence, durability and refinement with the luxury spirit of Manutti, or choose the artisan and timeless signature of the Gommaire Teak.
With Sunny Dom, reinvent your outdoor space!
Hotels and restaurants located in our Caribbean islands, discover furniture for your terraces that will allow your guests to live the most beautiful of outdoor adventures.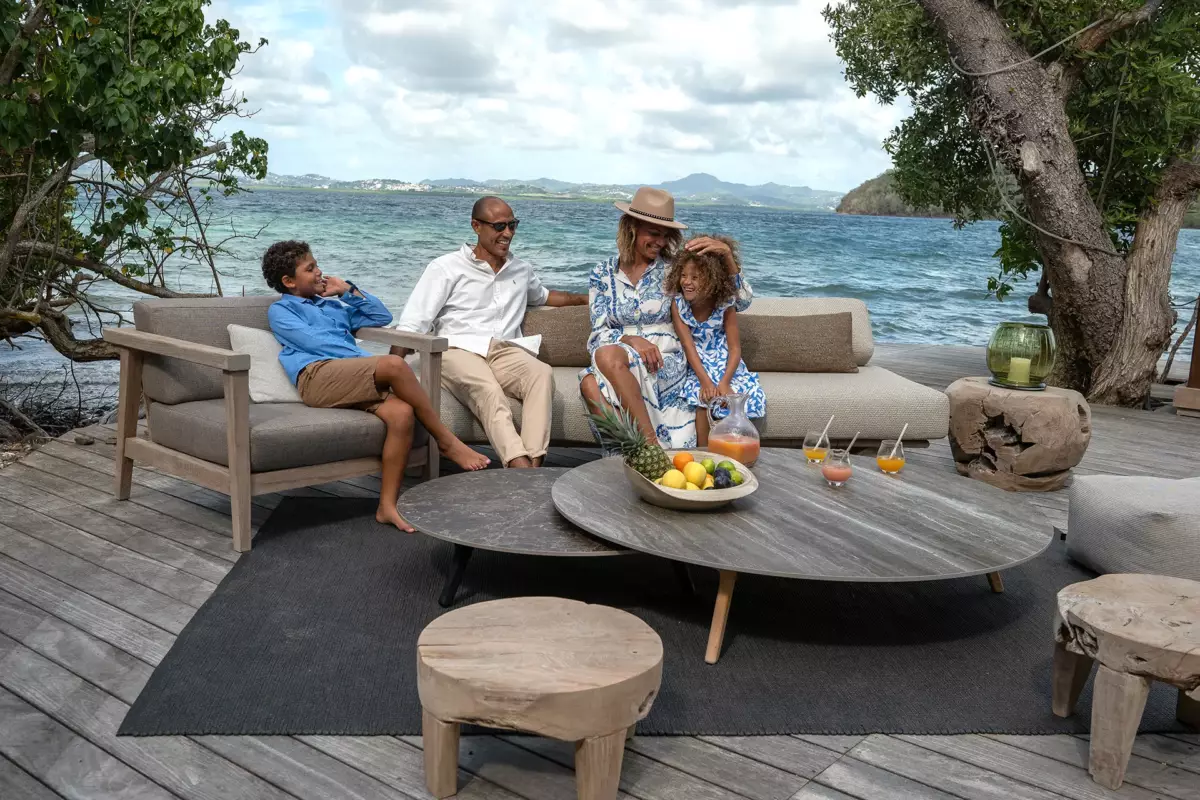 Manutti, design and luxury furniture, let the beauty and comfort of your outdoors shine
To precisely meet your quality standards, we selected the best offer on the outdoor design furniture market. Manutti will beautify your outdoor space and bring an incomparable touch of luxury and refinement to your terrace, patio, garden.
Our partner Manutti offers comfortable, durable outdoor furniture with innovative lines. Embellish your bioclimatic pergola, maximize the elegance of your clip-on terrace by choosing contemporary furniture with a creative design.
Fall in love with the wide variety of models of armchairs, tables, sofas, chairs, sunbeds of the Manutti range.
Sunny Dom assists you in the beautification and development of your terrace for your house, pool or garden.

Manutti furniture, an exclusive outdoor experience in our islands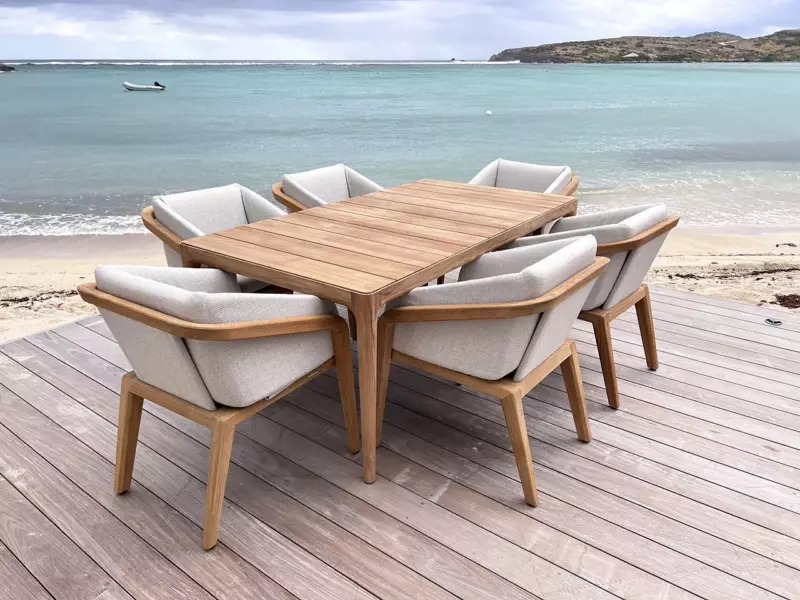 The sweetness of our islands is an invitation to enjoy the outdoors all year round. A real privilege offering an elite lifestyle. A Caribbean art de vivre that we love so much and that marks the unique and typical footprint of our Caribbean territories.
Enjoy the delicate tranquility of an evening by your private pool as you contemplate the soothing landscapes, or the inspiring dunes of our beaches.
Be captivated by an evening of shared pleasure with friends on the beautiful terrace of your home close to the city.
Enjoy reading the book that captivates you so much, comfortably seated in the outdoor chair just at the edge of your green garden… 
There are plenty of opportunities to enjoy good living outdoors. Whatever your favorite style, modern or more natural, the Manutti outdoor furniture that we give you a chance to discover will meet each of your expectations, desires, ambiances.
Manutti, reenchant your outdoor space for a long time
Here is a brand that never ceases to enchant your moments of conviviality outdoors. Let inspiration guide you to the infinite possibilities of design and colors of outdoor furniture from the Manutti collection. Exclusive and original, each model was designed to combine design, comfort and functionality. Conceived with a constant concern for practicality and quality, the Manutti collections adapt to the practical aspects of everyday life.
Investing in a piece of Manutti outdoor furniture is choosing the high-end quality, with furniture designed to last a lifetime.
The fabrics for the cushions of your armchairs, sofas, chairs, resist just as well to the water of your pool, as to the ocean spray, or the tropical rain of our islands. Yet another good reason to choose design products, which despite the passing of time, ensure this elegance and impeccable hold that convinced you when making your investment.
Our ambition is to give you the opportunity to acquire warm, elegant and pleasant outdoor furniture.
Our priority is to advise you so that your choices align with your design project, your tastes and the layout of your outdoor space.
Gommaire, Teak furniture, or when timeless design becomes natural
Life in the heart of our Caribbean islands is delightful, and the landscapes and natural scenery that make up the beauty of our surroundings – popular with nature lovers and vacationers looking for a change of scenery- are world-renowned. If the splendor of our territories is now well-established, daily life on our islands is also punctuated by climatic variations and meteorological changes as frequent as they are spontaneous.
If you live in Martinique, Guadeloupe, Saint Martin or Saint Barthelemy, and you are looking for outdoor furniture that can resist the intense sun of our tropics, as well as the salty gusts or the sometimes heavy rains that fall here. Teak is the quintessential essence of the islands, a natural, high-resistance material, it remains unchanged over time, even when subjected to weather constraints. Durable and aesthetically pleasing, teak is just as appreciated for its strength, as for the beauty of its hues and the warmth of its wood essence.
We have selected the Gommaire brand as a preferred partner in outdoor furniture specializing in recycled teak. Timeless and innovative outdoor furniture that bring a unique note of nature and authenticity under your bioclimatic pergola.

Gommaire furniture, beauty and natural charm are enhanced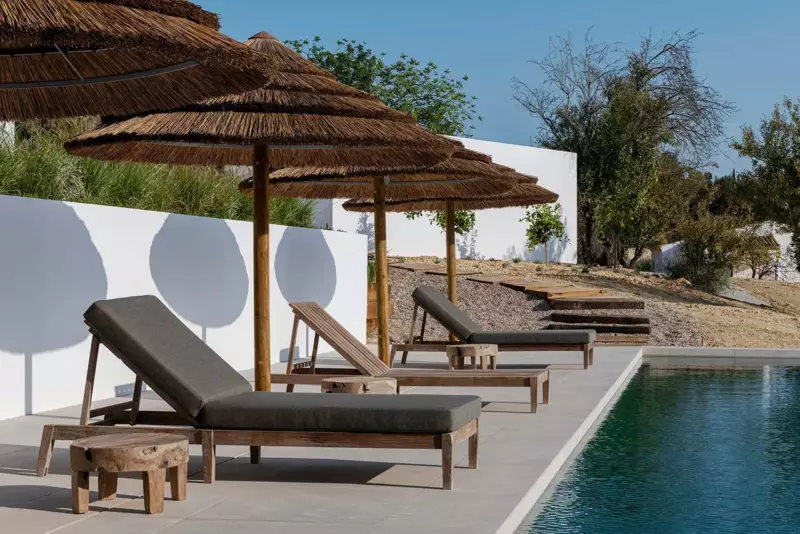 Gommaire is a collection of outdoor furniture in recycled teak, teak root, PE wicker, but also in powder-coated aluminum. A collection of outdoor furniture that's more accessible, natural, and complements the more contemporary and luxury approach of the Manutti range. At Sunny Dom, we believe it is crucial to meet all expectations and preferences in terms of exterior design, keeping as our guideline an uncompromising attention to the quality of products and the ethical values shared with our manufacturing partners.
With the Gommaire collection, you gain access to the "think green" spirit of a brand that is successful thanks to an expert craftsmanship, furniture that combine the warmth of natural essences with the exclusivity of noble and sustainable raw materials.
Gommaire furniture, maximize your outdoor comfort naturally
Tables, chairs, modular garden furniture, deck chairs, coffee tables, each item has its own personal touch and fits harmoniously and elegantly in your outdoor spaces. Seating comfort, with premium outdoor cushions designed with Italian outdoor fabrics that bring a graceful elegance to outdoor collections. With Gommaire, Sunny Dom invites you to an escape full of authenticity and refinement.
Immerse yourself in a natural atmosphere, by (re)appropriating some of the surrounding nature. Ultra-resistant and treated wood that guarantees durability and reliability of quality, your comfort and well-being are ensured for years. Breathe and enjoy a cocooning space, like a natural haven on your terrace.
Eco-conscious outdoor furniture brands aligned with Sunny Dom's ethical values
Range of environmentally friendly materials, both renewable and recyclable, ecological collections, innovative and eco-conscious visions of our two partner brands, specialists in garden decoration, are supported by ethical values that are espoused and enacted. 
These pieces of furniture made from materials chosen with strict respect for nature serve the beauty of the outdoors as well as the comfort of outdoor spaces. 
Spaces appreciated in shared moments on your terrace, in your patio, or by your private pool. Trees between 60 and 80 years old, species from ecological plantations for outdoor furniture from the Manutti collections, recycled teak, teak roots and wicker carefully selected for the Gommaire natural collections… Durable and resistant ranges of outdoor furniture, shaped by brands that share the same eco-responsibility values as those that Sunny Dom stands for.
Give meaning to our work and work with meaning, it is more than ever the commitment of our company specialized in sun shading solutions, brought by a continuous attention to your outdoor well-being.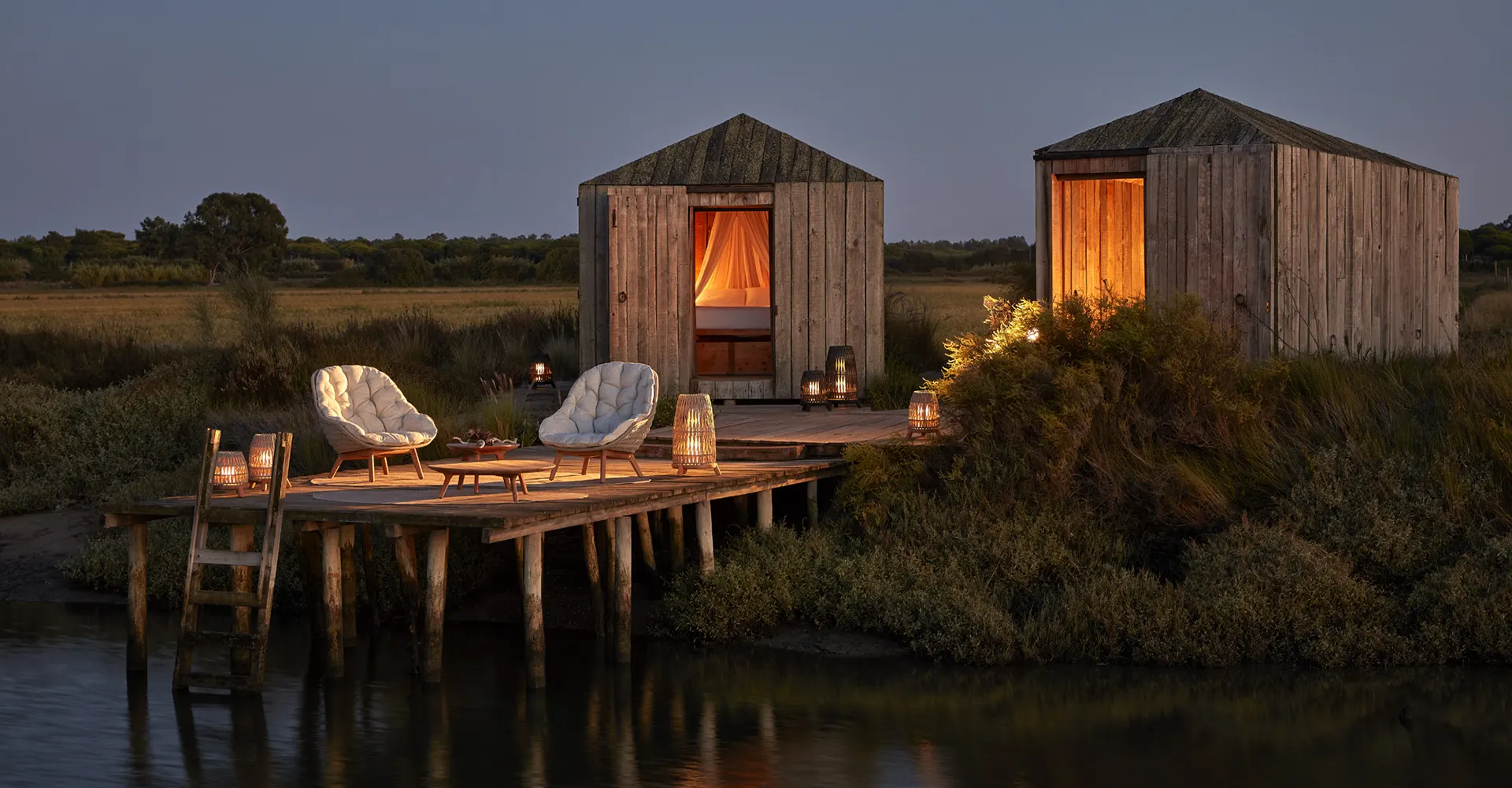 together , let us give life to your outdoor design project.