With Sunny Dom, choose a clip-on terrace
that enhances your outdoor space
Enjoy a comfortable terrace with a long lasting aesthetic
The clip-on terraces have many advantages! Installation and disassembly without deterioration, impeccable aesthetics, great stability, it's a beautiful, practical, functional and of course durable outdoor design solution offered by Sunny Dom, to create an outdoor space worthy of your expectations. 
Besides the beautification of your home, your restaurant, your hotel, thanks to the timeless charm and authentic bamboo that adapts elegantly to the terraces to Grad's clip-on terraces which we sell and install, you can enjoy the intensity of an emotional experience outside.  
Sunny Dom, careful to select the best on the market for each of its outdoor products, has combined Grad innovation with the fascinating and singular assets of MOSO® bamboo. 
A proven and sustainable bamboo, which offers a natural alternative of a fast growing species for floor coverings, terraces, meeting our customers' most uncompromising requirements in terms of quality, sustainability and eco-responsibility .
Because it is also Sunny Dom's singular stamp, to offer you a premium service, in proximity and to be attentive to every detail and give you access to trendy, high-tech, sun protection or exterior design luxury products, manufactured by brands that embody the same ethical values as us.
Clip-on terraces, concept and benefits?
A unique concept that demonstrates the elegance of an outdoor terrace
When we talk about clip-on terraces, we talk about terraces whose decking boards can be laid on all types of soils. Invisible fasteners are used to connect the decking boards, offering an aesthetic, homogeneous, stable and, of course, removable outdoor space if necessary.
The clip-on terraces are ideal on hard ground. They can cover tiles or a concrete surface. The principle is innovative and has proven to be effective. A rail system is previously installed on the ground, to accommodate the clip-on decking boards for terrace. Then the decking boards are fixed thanks to ultra-resistant clips that, unlike the more traditional wooden terraces that do not benefit from the Grad innovation, remain perfectly invisible.
No visible screws, the final look of your clip-on decking board terrace is refined, the vanishing lines are perfect, your bamboo terrace offers a stylish aesthetic of great beauty that will remain unchanged in time.
An ingenious and innovative concept that combines several benefits
The clip-on terrace sold and installed by Sunny Dom offers a screw-free assembly, for a more aesthetic and elegant final look. But the innovative system developed by Grad is truly ingenious, because the installation of your clip-on wooden terrace can be done without any drilling. 
Another notable benefit is that each clip-on decking can be removed if need be, and your entire terrace can also be disassembled without any deterioration during handling. 
As sellers who are committed to the quality of products as well as commercial relations, we are proud to give you access to excellence, through this meaningful partnership with Grad, 100% Made In France. A brand that combines innovation with respect for the environment, which for years, as is the case at Sunny Dom, has been part of a constant and continuous approach to sustainable development.
Discover the world's first clip-on terrace system
Sunny Dom distributes and installs Grad clip-on decking in its territories

Sustainable and eco-friendly clip-on terrace for ground, wall or ceiling
The natural essence of the MOSO® Bamboo, suitable for Grad's clip-on terraces, which we sell and install is an inexhaustible raw material (high growth), its cultivation does not deplete the planet's natural resources. The look and natural beauty of bamboo are ideal for outdoor projects, for your terraces, but also for your walls or ceilings. 
As for hardwood, (bamboo belongs to the grass family) you can –according to your preferences— select the appearance most in line with your environment and your aesthetic preferences. Finishes for your outdoor space perfectly in line with your tastes. 
Durable, no matter the climate and weather variations, your MOSO® bamboo clip-on terrace offers stability and high resistance. 
It can be combined with a terrace cover with adjustable decking boards, you will then have a very pleasant outdoor space, waterproof ground and roof, sheltered from the elements.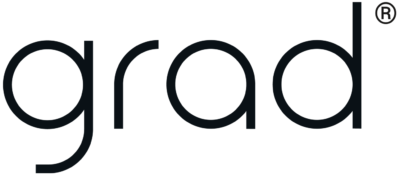 For renovations as for new constructions, clip-on terraces, a smart and reliable solution
Thanks to a wooden deck, the water can be evacuated without problems. The structure isolated from the ground by wedges of different heights also promotes a regular and easy evacuation of rainwater or watering water. The total height of the wooden terrace is 4 cm.
Grad's clip-on terraces ensure structures of great stability and are completely rot-proof. The aluminum rails are durable and adapt easily to all configurations. The hues of your bamboo terrace will change naturally over time, while keeping a refined and modern look.
Manufacturing and quality commitment of Grad products
Manufacturing without the addition of chemical treatment, with wood-friendly plant components.
In an eco-friendly approach that opposes the massive use of exotic woods, the timber clip-on decks are only from properly managed plantations.
In compliance with DTU 51-4 Wood Decking Standards.
A 25-year warranty, a premium commitment that is a first for a Caribbean deck.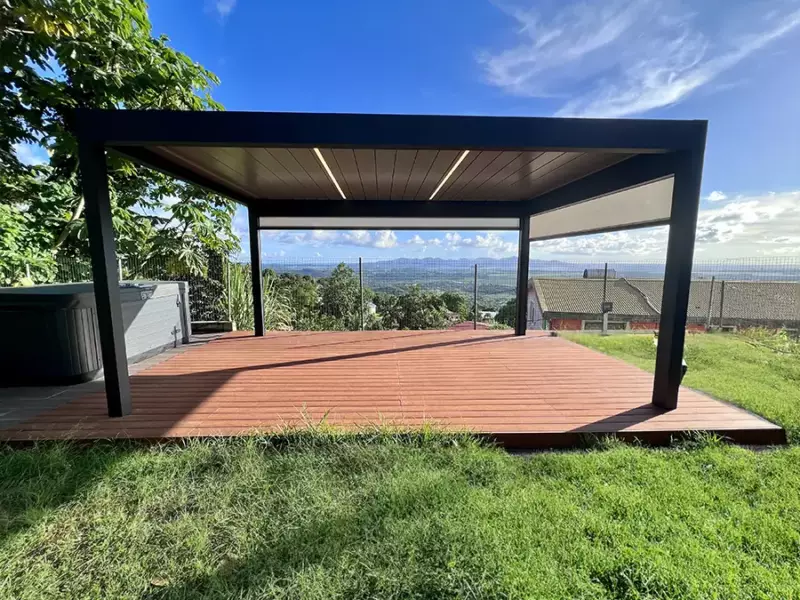 MOSO® bamboo for sustainable outdoor terraces suitable for all climates
The terrace, whether it be for a restaurant or a hotel, is truly a place of sharing and conviviality. In the mild climate of our islands it is an additional outdoor space that allows you to enjoy the art of living outdoors, whatever the moments of the day and the months of the year. 
The terrace is definitely a privileged part of your garden, where you spend a lot of time, relaxing on your outdoor furniture. Whether alone, with friends or for family meals around your brazier to taste dishes that tickle your taste buds and make you enjoy privileged moments.
The wooden terraces are popular both for their elegant lines as for their natural design, making them a charming and serene asset in the heart of many gardens.
At Sunny Dom, we offer you the opportunity to equip your clip-on terrace with the Moso N-Durance® Bamboo, a very interesting alternative to other woods and materials.
Of course if you prefer other types of wood, we can guide you towards a custom choice, contactus!
Moso N-Durance® Bamboo, good for the planet
Compared to other materials and hard woods, Moso N-Durance® bamboo for clip-on terraces offers several benefits. The preservation of natural resources, for one. Indeed, bamboo has the particularity of renewing and growing extremely fast (several meters per day), resources are constantly renewed and the bamboo harvest does not alter natural reserves. 
In addition, bamboo stems grow from an underground root system, so after 5 years a stem can be harvested, while others continue to grow. The plant does not die when the stems are harvested. Last but not least, MOSO® bamboo has a zero carbon impact.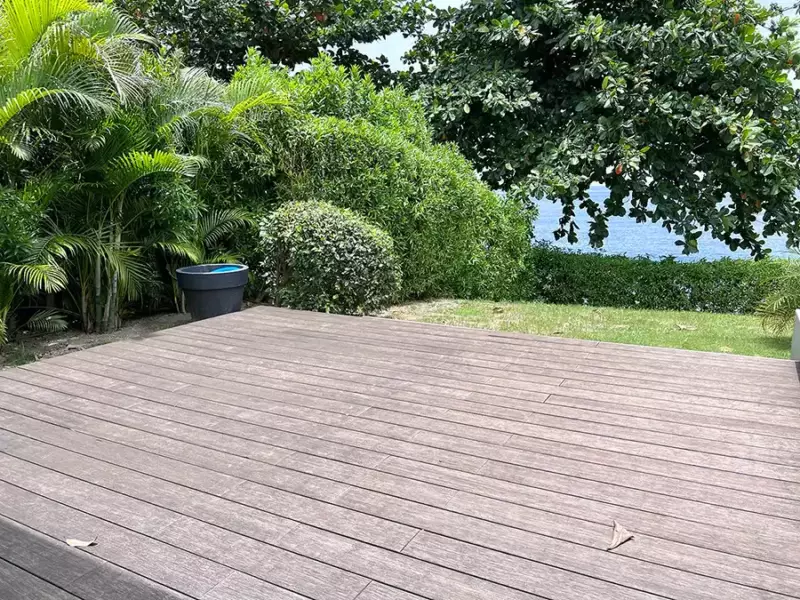 Moso N-Durance® Bamboo is good for the beauty and durability of your clip-on terrace
A special and unique Thermo-Density® production process, used by MOSO®, guarantees you very durable clip-on bamboo terraces. MOSO® counts no less than 6 million m² of terraces installed in 10 years around the world and in various climates. MOSO® bamboos are guaranteed for 25 years, underlining once again a remarkable commitment to quality that is appreciated in our territories (Guadeloupe and Martinique). Bamboo mirrors the aesthetics of tropical woods that are popular on our islands, while being more ecological.
Enjoy the appearance of hard and solid wood with natural greying for years. Your clip-on terrace can withstand the erosion of time, the bamboo floor offers great stability (very little swelling or shrinkage) and a strong resistance to climatic variations.