Sunny Dom,
beautify your outdoor,
choose a sustainable lifestyle and comfort

Originally from Martinique, we are a family company that pays attention to the proximity and quality of the services as well as the products we offer. Our core business: sun protection. Distributor of bioclimatic pergolas in the French Antilles, our attention to excellence leads us to offer you the best products, with the exclusive Renson brand. Our ambition is to provide you with a unique new outdoor experience, which is why we also offer you the opportunity to benefit from a range of carefully selected outdoor products, ideal to fully enjoy the outdoor lifestyle on our Caribbean islands.
Whether you're with family, friends or alone, you can enhance your daily life outdoors and access sun protection and outdoor products that combine comfort, elegance, technicality, durability and reliability. The sun is our islands' honey, the Caribbean lands are our roots, we are proud of these roots and if we appreciate the sublime beauty of the Caribbean, we are also familiar with its typicity. That's why we are committed to offering you a selection of outdoor products perfectly adapted to the climatic conditions of our territories (Martinique, Guadeloupe and its islands).
Renson Bioclimatic pergolas, Grad's clip-on terraces in Moso bamboo, Manutti contemporary outdoor furniture or authentic and artisanal with Gommaire teak, the brands we distribute all use premium materials.
Products that keep their aesthetics and charm over time, while being in keeping with the spirit and values of Sunny Dom.
Sunny Dom,
our business: solar protection
The bioclimatic pergola, an extra living space outside and in all seasons
The bioclimatic pergola, an extra living space outside and in all seasons
An invitation to the good life outdoors, the bioclimatic pergola offers additional space that's protected from the sun, wind and rain. Our Renson aluminum pergolas give your home, your building this elegant atmosphere, they combine charm and style to offer you a harmonious and refined outdoor living environment.
Lightweight and resistant structure, design lines, durable aluminum, the bioclimatic pergolas sold by Sunny Dom, specialist in sun protection, adapt perfectly to your living place, regardless of your home's style and architecture.
The bioclimatic pergola enhances your moments of relaxation and conviviality outdoors with family, or friends. Away from humidity, you can easily extend your evenings. Protected from sun rays or the frequent wind of our islands, you fully live serene moments, while enjoying your outdoor space.
Natural shade and ventilation, aesthetics with refinement, practicality and safety, the bioclimatic pergola has more than one ace up its sleeve! Buying a pergola means offering you the exclusivity of special moments away from the vagaries of our islands' weather events, all year round.
Renson Bioclimatic Pergolas, Solar Protection excellence, a Sunny Dom choice
Renson Bioclimatic Pergolas, Solar Protection excellence, a Sunny Dom choice
At Sunny Dom we choose our supplier manufacturers for the excellence of their savoir-faire, as well as for the absolute quality of their products. Trust and reliability are at the heart of our customer relationships.
To guarantee you sun shading solutions that meet your expectations, we work with Renson, a reference brand in sun shading that also manufactures blinds, sunscreens, cladding, a whole range of innovative and functional solutions to live well in an outdoor environment.
The Renson aluminum bioclimatic pergolas that we sell meet our qualitative criteria without compromise. We are committed to providing you with a responsible and local service, as well as innovative, secure, easy to maintain and sustainable bioclimatic pergolas. All in the service of a healthy, and comfortable environment, open to nature.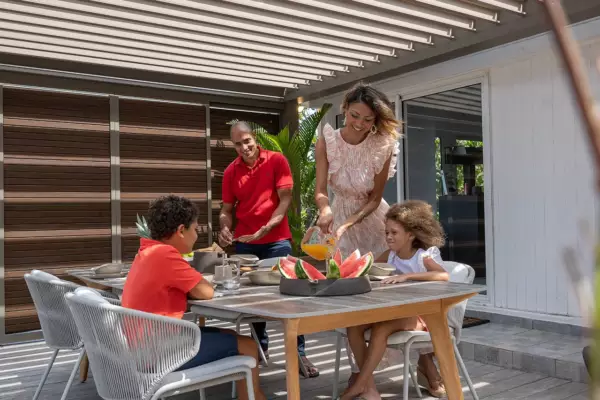 Renson is the world leader in the solar industry, 113 years of expertise and know-how to fulfill our customers' highest expectations. The Renson aluminum pergolas that we sell in Martinique and Guadeloupe adjust to the island's lifestyles, and offer a variety of options, to create an outdoor space that looks like you.
Sunny Dom, carefully selected outdoor solutions
Grad, clip-on terraces with MOSO

®

Bamboo
No screws, reliable, solid and removable, Grad's clip-on terraces, sold and installed by Sunny Dom are ideal solutions for the development and embellishment of your outdoor space. We commit ourselves to offering you the best of the market in accordance with our core values, Sunny Dom also offers MOSO® brand bamboo floors with zero carbon impact
.
Manutti outdoor furniture, luxury and contemporary design
You want to complete your bioclimatic pergola with high-end and contemporary outdoor furniture. Manutti luxury is a range of outdoor furniture that combines quality materials, beauty of forms and colors. With Sunny Dom, indulge in excellence.
Gommaire outdoor furniture, natural authenticity and exception
Do you want to bring the sweetness of natural cocooning to your bioclimatic pergola, thanks to a collection of outdoor furniture with timeless charm where the wood reveals its unique imprint? Gommaire, the promise of an authentic and soothing atmosphere.
With Sunny Dom, reconnect with nature.
Brasero Ofyr, savourez la cuisine en extérieur
Do you want to share special moments with friends or family, rediscover the pleasure of cooking outdoors? The Ofyr range, a leading brand in the brazier market, is an invitation to an extraordinary taste and emotional experience.
With Sunny Dom, choose conviviality and shared flavors.