Sunny Dom
a family-run and ethical company


committed to enhancing your outdoors
The art of living outdoors and a love of a job well done, Sunny Dom is above all a beautiful family history
Sunny Dom is also a company founded by a family from Martinique, who loves outdoor living, knows perfectly the culture, lifestyle, as well as the specific characteristics of the islands where they live and work (Martinique, Guadeloupe, Saint Martin and Saint Barthelemy).
Our company is driven by a central ambition, to give professionals and individuals access to the best outdoor solutions on the market. Our goal is to make a real and lasting contribution to the beautification of your buildings, your hotels, your restaurants, your habitats, while making you live the most beautiful outdoor experiences.
We have chosen excellence for the valuation of real estate on our islands, with lead partners in the market, who share the same ethical and responsible values that we are proud to embody every day.
In addition to offering you a quality offering (bioclimatic pergolas, clip-on terraces and outdoor furniture), we provide personalized advice with the greatest possible proximity, to give life to your outdoor design project.
To be by your side over the long term means committing ourselves to the durability, functionality, design and comfort of our outdoor installations. To meet your expectations as closely as possible means placing your satisfaction at the heart of our brand DNA. Your satisfaction is our greatest reward, and your loyalty our greatest achievement.
Between ecology and innovation, between technicality and simplicity, our sun shade and outdoor products will keep improving your life… outdoors.
Our DNA, high standards and proximity to embellish your outdoor space
Living outdoors, a way of life honored by Sunny Dom.
Whether you live in Guadeloupe, Martinique, Saint Barthelemy or Saint Martin, you enjoy the delights of outdoor life on our islands, which, much more than an invitation to live in the moment, is a true way of life.
To live in the islands of the Caribbean also means dealing with the climate variations that, most of the time, are as spontaneous as they are ephemeral. Frequent climate changes that require flexible, responsive and functional outdoor equipment.
We know this lifestyle well, as we are also residents of Martinique. So, when we decided to equip our own family home with a bioclimatic pergola, we explored all the existing solutions on the solar market and outdoor equipment, in order to find the rare gem.
The outdoor products we sell were tested first-hand in our own home. We were totally impressed by their level of comfort, functionality, design, high technology and durability. That's why we decided to give you the opportunity to experience the same wellness experience outdoors.
Because we were clients before we were sales consultants selling bioclimatic pergolas, clip-on terraces and outdoor furniture, we are acutely aware of your requirements and expectations.
A drastic selection of our outdoor products, a personalized support underpinned by ethical values
Personalization and tailored advice
Our added value: personalization. It invariably goes through tailored advice for every outdoor design project. Your home and its typicity, the architecture of your building and your preferences, your need and your context as well as your environment are specific, they do not resemble any other. Your need is unique. And because every project is different, bringing you a reliable, secure, sustainable and fully customized solution is a top priority that we always respect. A commitment that signs our singularity and guarantees total satisfaction over time.
Innovation and the demand for quality
We select the best products on the market in the outdoor industry, based on drastic criteria, such as sustainability, design, eco-responsibility, simplicity, comfort, and innovation.
Renson for bioclimatic pergolas, Grad® for clip-on terraces and Manutti for outdoor furniture. 3 reference brands that trust us, which we distribute on our four islands, Martinique, Guadeloupe, Saint Martin and Saint Barthelemy.
Strong partnerships, based on mutual respect and shared trust, allow us to offer you reliable, high-quality, high-tech and very comfortable outdoor product lines.
We also show innovation through our ability to offer you creative and new alternatives to meet all your requirements. We work with architects on a variety of outdoor design projects. Benefit from their expertise in the choice of colors, materials, tree species… to ensure your complete satisfaction.
Proximity, respect and responsiveness are the focus of our commercial relations
Eco-responsibility, respecting your needs and the planet
Living a new outdoor experience, having an additional outdoor space that will allow you to enjoy each shared moment with your family, friends or even on your own, regardless of the climate variations on our islands.
To protect you from the scorching sun rays, wind and insects to enjoy special moments outdoors at any time of the day and throughout the year… Now that's something to look forward to!
And if you also limit your environmental impact, while saving money (natural ventilation, modulated shading that limits the energy consumption of air conditioners, etc.), your outdoor space will become that much more enjoyable.
Sunny Dom is a company committed to local development, concerned about the environment, which chose to collaborate with brands that believe in the same eco-responsible values. Sustainable materials, recycled and recyclable accessories, wood from reasonable and sustainable crops, etc. The products we sell are conceived in an ecological and responsible dynamic. We are proud to offer you outdoor solutions that combine quality, high-tech, elegance, comfort and ethics.
Proximity and responsiveness, being by your side over the long haul
We nurture privileged and lasting relationships with our customers. If we are committed to providing you with personalized solutions, we will also support you over the long haul. You want to improve your exterior space, complete it, choose new wood species for your clip-on terrace, brighten up your bioclimatic pergola with side blinds to enhance your living comfort, or change your outdoor furniture as your tastes evolve…
We are at your side over the months, over the years. Proximity, responsiveness, active listening and long-term presence are at the core of our commercial relations, they are the soil on which mutual trust comes to life.
A valuable trust that we take great care to maintain. We install the best outdoor solutions, those that precisely meet your expectations and we follow the evolution of our products, as well as that of your needs.
The pillars of our brand DNA
Respect for our customers, of their projects and of who they are

Boris Challe, a passion for aeronautics and technology
My parents chose to live in Martinique for 3 years and I was born on the beautiful Caribbean island.
Twenty years after being born on the beautiful island of Martinique, while I was living in Paris, I decided to reconnect with my native land. There, I met my wife, whose family had been living on the island for generations. My passion for aeronautics never left me so I became an airline pilot, a profession I practiced my whole life.
Technology is at the forefront of my interests, I like innovation, engineering. The concentration of technology found in a bioclimatic pergola reminded me of the high-tech injected into planes. It stimulated my interest, a few years later, when I created our company Sunny Dom with Jean-Baptiste.
At the end of my career, I was working for Airbus, my missions were to deliver new aircraft from the company's headquarters in Toulouse to India. Then, the health crisis massively impacted my business, as it did with my son's. I decided to retire early and come back to live in Martinique and to embark on a new professional adventure. The idea of creating a family business was becoming increasingly attractive, it represented a great opportunity to get closer to my son and to contribute to the progress of my island.
Jean-Baptiste Challe, a passion for real estate and buildings
My appetite for real estate guided my steps from my first professional experiences. I have always evolved in the real estate world, in the transaction world more specifically. In Martinique, where I was born and where I grew up, I created a company specialized in tourism real estate a few years ago. Our island is attractive, seductive, warm, life is good and you can enjoy moments of relaxation and wellness outdoors in a privileged environment. During this period, I was already paying attention to the priorities of tourists: to enjoy the outdoor spaces, be in a comfortable, pleasant setting. My attention is focused on these needs to live a good life and the immense possibilities offered by my island, in resonance with this much appreciated lifestyle.
After an experience in the marketing of office spaces for companies in Paris, where I learned the rigor of work, I went back to Martinique at a time when the pandemic was impacting this industry. Refocusing on real estate, customer satisfaction in perpetual line of sight and the desire to find refuge on my native island, these opportunities were offered to me, so I seized them.
I got back to this way of life that I knew well, this art of living outdoors that I loved so much. I know the cultural codes, the habits, the language, the food, all this Martinique culture is part of my DNA. I was rediscovering the Martinique architecture thanks to a collaboration in the real estate transaction. I reconnected with all the houses on my island, and noted that an improvement was undoubtedly necessary in view of the demands of a growing tourism presence.
That was it, it was here that I wanted to create a new company, which would allow me to express my passion for real estate and commercial relations and contribute to the development of our Caribbean islands.
The meeting of know-how and the alchemy of a family business
Sensitive to the valuation of real estate, to the improvement of outdoor spaces on their native island to help highlight an art of living outdoors.
Eager to create a meaningful family company rooted in shared values. Getting together, participating in the evolution of the Caribbean region… The idea of co-creation quickly took place in the creative and dynamic minds of Boris and Jean-Baptiste.
Sunny Dom is also the meeting between a father and a son that is crystallized in a common passion and a wealth of expertise. Selling well-being, contributing to the satisfaction of their customers, offering innovative, sustainable, original and comfortable solutions, all of which are common goals emerging from an exciting perspective.
One is passionate about real estate, the other loves technology, both love a job well done and the typical characteristics of life on their island. And it is after experiencing the installation of a bioclimatic pergola in their own family home, that they came to an obvious conclusion.
 It is difficult to find quality outdoor solutions on their islands, yet the life experience that this type of sun shade installation provides is unique, enjoyable, and joyful. They feel the need to share that. To make people around them discover the added value of these high-tech products, that are very easy to use and that bring a major improvement to buildings, while offering an additional living space outdoors, where life is good.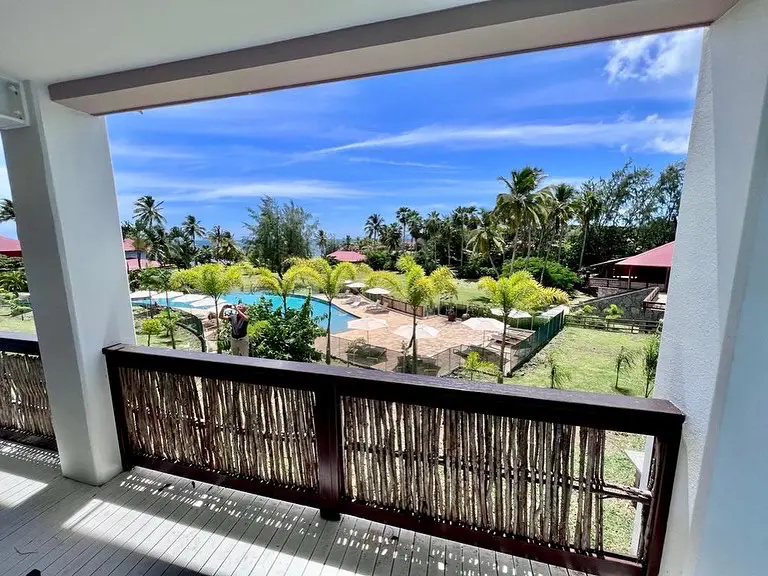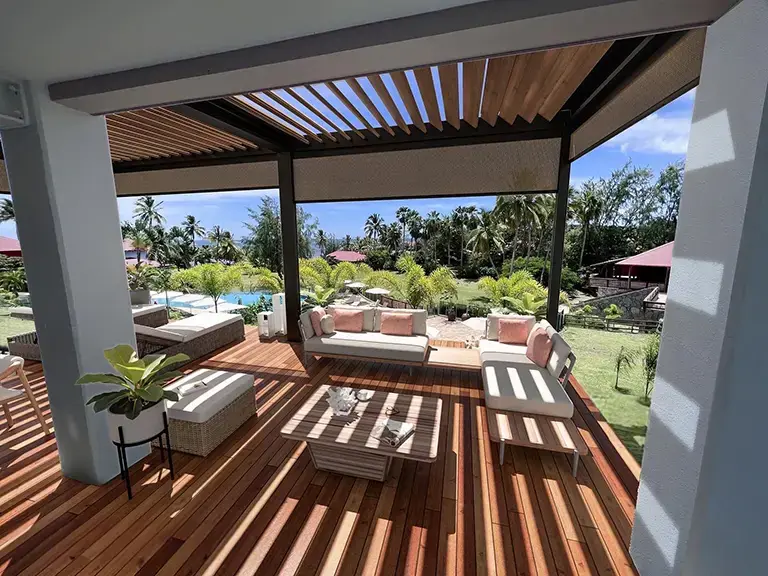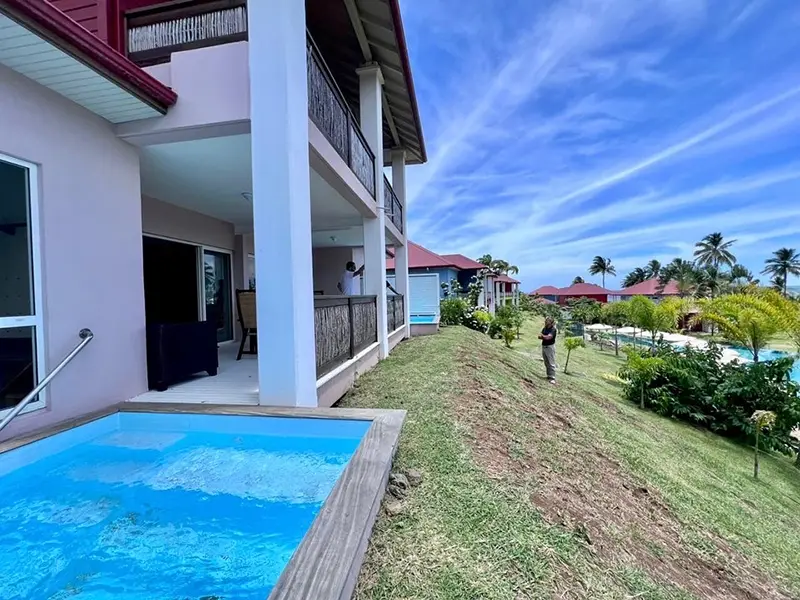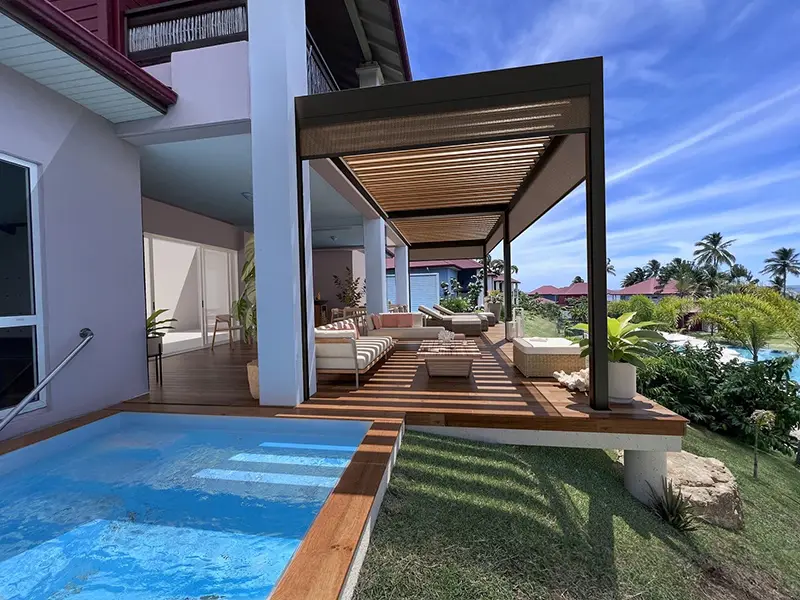 Sunny Dom was born from this observation and shared ambition. And because they know all about the lifestyle on the Caribbean islands, as well as the environment and local codes, three reference and emblematic brands placed their trust in them. First, Renson for bioclimatic pergolas, Grad for clip-on terraces, then Manutti for outdoor furniture.
A complete range that meets their customers' evolving needs, works towards their complete satisfaction, and contributes to its two founders' professional development. 
The virtuous circle is now complete…