Ofyr brazier , the barbecue spirit , only better!
With Sunny Dom , turn your meals into a tasty and friendly outdoor dining experience
Enjoy each moment sheltered from the sun with your Renson bioclimatic pergola. Enjoy living well outdoors while comfortably sitting in this outdoor furniture that combines sophistication, design, durability and resistance… Such is the promise of Sunny Dom, a specialist in sun shading solutions in Martinique, Guadeloupe and its islands, in Saint Martin and Saint Barth.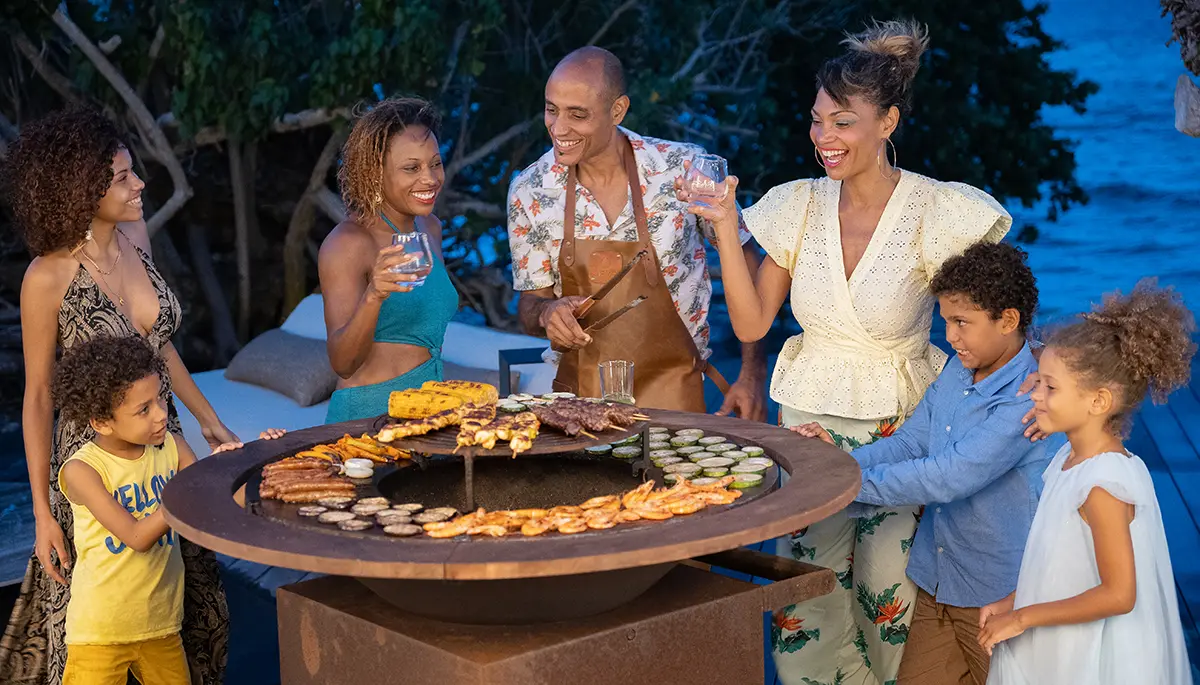 To further add to this privileged outdoor experience and enhance these magical moments with family or friends, Sunny Dom goes one step further! You now have access to the best on the market to fully experience the art of outdoor cooking.
Discover the range of Ofyr braziers, a totally new concept that offers a great versatility of use and an aesthetic worthy of a true work of art. As the market leader, the Dutch brand Ofyr that we chose to sell, for even more enjoyment shared outside, is one of the key players in outdoor cooking these days with its flagship product, the Ofyr brazier.
With Sunny Dom, turn every meal into a celebration of togetherness with an innovative product that will tickle your taste buds and enhance your outdoor space with the beauty of its materials and lines.
The outdoor kitchen is becoming spectacular, creates bonds, brings people together!
Ofyr , a key player in outdoor cooking , the art of outdoor cooking
OFYR offers a range of more than 130 products to complement your outdoor cooking experience. You live on our islands and outdoor life is much more than a seasonal experience, or a seductive concept, it is a true way of life. Suffice to say that outdoor meals are at the heart of your daily life and a wonderful way to enjoy culinary breaks and conviviality with family or friends, in this outdoor environment you've come to love so much. For barbecue enthusiasts, Ofyr has revolutionized the very concept of outdoor cooking. The latest trend for terraces and gardens worldwide, Ofyr has collections of cooking units with beautiful lines and innovative features, so the outdoor cooking experience can be more versatile, spectacular and creative than with the conventional barbecues.
Ofyr braziers, innovation and sharing at heart
The brazier turned barbecue, the Ofyr brand is at the origin of this reconversion. Ofyr was the first company to reinvent outdoor cooking, it is the leader in its segment, which is why Sunny Dom, who has been working since its inception to give you access to the best on the market, has chosen to sell its braziers in its territories.
Ofyr's wood fire braziers-planchas intelligently combine the art of cooking on a plancha with a varied range of accessories to grill a plethora of dishes, but also to cook pizzas, or to prepare the famous smoked chicken or lobster from our islands, and much more.
Ofyr designed its braziers for maximum flavor (charcoal cooking), but also for the very spirit the barbecue conveys, only better!
Its lines are harmonious and refined, like garden furniture. They are designed for the outdoors, built with materials that are resistant to salty air, such as black powder-coated steel, or corten steel. All combined with high quality ceramic and teak wood.
The rounded shape of the Ofyr braziers is a real invitation to sharing, to conviviality. The brand created them so outdoor cooking would no longer isolate the host, but rather promote, as it once did around a wood fire, the notion of cooking and enjoying an outdoor meal together.
Sunny Dom , distributor of Ofyr braziers , further enhance your outdoor experience
Sunny Dom, a specialist in sun shading solutions in Martinique, is a family business driven by ethical and eco-responsible values. Our ambition is to give professionals and individuals based on our islands, access to the best outdoor solutions on the market.
Contribute to the beautification of your home, your hotels, your restaurants, optimize this exclusive experience of outdoor good living, promote the success of your outdoor projects with high quality, high-tech outdoor products, with an aesthetics that lives up to your dreams, this is our raison d'être.
Create authentic and unique memories with your loved ones with the Renson pergolas, the Grad clip-on terraces made of MOSO® bamboo, and now the Ofyr braziers!
Sunny Dom advises you, helps you and works with you to shape your exterior with outdoor solutions of great robustness, durability, eco-sensitive, with premium lines and comfort.
Between eco-responsibility and innovation, technology and luxury, authenticity and noble materials, the outdoor products we sell and install are selected with constant attention to responsibility. Each one of our partner manufacturers is the best in their respective market and their ranges of outdoor solutions, as their visions and values are perfectly in line with Sunny Dom's DNA.